Struggling with the SEO of your website? You might need the help of SEO agencies.
This article will explore the best SEO companies for small businesses that can assist you in ranking your website's business pages on the 1st page of Google to get amazing traffic.
Why do Small Businesses Need SEO?
SEO is important for small businesses because it can help them attract more visitors to their websites.
When a small business ranks high in search results for relevant keywords, it means that more people will be able to find them when they search for those keywords.
Implementing SEO on your website can make more people visit your website, contact you, and buy your products or services.
Here are a few reasons why SEO is essential for small businesses.
Increased visibility and credibility: When a small business ranks high in search results, it means that Google and other search engines view the website as being relevant and authoritative. This can help to increase the credibility of the business in the eyes of potential customers.
Attract targeted traffic: SEO can help small businesses attracts targeted traffic, meaning people who visit the website are more likely to be interested in the products or services. This leads to more sales and increased profits.
Better user experience: SEO enhances user experience by making websites more relevant and useful for search engine users. Doing SEO makes people more interested in and satisfied with your website.
Cost-effective: SEO is a cost-effective marketing method for small businesses. Once the initial SEO work is done, it can continue to generate results for the business over time.
Top SEO companies for small business in 2024
Now explore the list of best SEO companies for small businesses mentioned below in detail. Consider one that fits your budget for improving the SEO of your website.
SEO Discovery:
SEO Discovery has established itself as a leading Small Business SEO company globally, with a remarkable track record of achieving rankings for over 1800+ small businesses.
They provide a comprehensive range of SEO services tailored to meet the unique needs of each client, prioritizing customer satisfaction.
With affordable pricing and a proven history of success, they are a reliable partner for small businesses aiming to boost their online presence.
Notably, SEO Discovery has worked with esteemed clients such as Infinity Collection, DPS, Elle, Mercedes Dealers, and many others, helping them achieve their SEO goals and expand their online visibility.
Rocketship SEO
Rocketship SEO is highly regarded as one of the best SEO providers for small businesses in the US.
They are really good at making websites rank high on Google, Bing, and Yahoo. They help all kinds of businesses, like computer companies, towing services, funeral homes, and jet ski rentals.
People love their staff and how professional they are, especially for SEO services.
One success story is about an online store they helped. After updating the website, more people visited it, and the website showed up higher in search results for important words.
Neo E-Marketing 
This is the best SEO company for small businesses located in Cancun, Mexico. They have consistently been recognized as one of the best choices for small businesses from 2018 to 2021.
Although based in Mexico, they work with SMBs worldwide. Their main focus is to help small businesses evolve their brand through comprehensive SEO marketing services.
They have worked with notable clients such as Agua Plus, Melia Lomas Travel, and Olympus Tours.
Recently, they successfully optimized the search engine presence of Fly Soccer League and Christian Music Band, enhancing their websites and ensuring they stand out from the competition.
Prime SEO Services.
This top digital SEO agency excels in improving search rankings by providing quality link-building services.
They have already delivered significant results for brands like Ayurvedic Green Tea, BiggBull, and Aquafresh Prime.
Clients from other small businesses also share positive reviews, mentioning how optimization efforts helped drive more traffic to their websites.
The agency's experts in SEO fixed problems on the website and made it easier to use.
This led to amazing results like more than 2000% growth in organic search, over 100 new important backlinks, and a five times better return on investment (ROI).
HigherVisibility
This SEO company primarily operates in Memphis, TN, focusing on small businesses. They offer specific SEO tools to identify and eliminate weaknesses in your digital business.
Their team deeply analyzes your brand to help you achieve your goals and increase traffic with SEO packages for small businesses.
Some of their notable clients include Honda, Caliber Collision, Hotworx, Ziebart, Allied Van Line, and others. This SEO company was co-founded by Adam Heitzman.
SEO.com 
The main office is located in Lehi, UT. This leading SEO agency offers effective SEO services for both large and small businesses.
Their expert team uses modern SEO techniques to help your product attract customers and take your online business to new heights of success.
The company serves various clients in industries like health services, pest control, HVAC, SBD, and more. Michael Mann is the director of the company.
 Ignite Visibility
This company based in La Jolla, California provides a wide range of services including SEO, PPC, and web design.
If you need assistance with improving your small business website through Local Search Marketing, Pay Per Click Advertising, Conversion Rate Optimization, or other services, you can rely on their team of specialists.
Notable clients of the company include Sharp, National Funding, The Knot Worldwide, EoS Fitness, Tony Robbins, and others. The CEO leading the company is John Lincoln.

Straight North 
This leading American company offers SEO, PPC management, and custom web design services for small businesses.
They have offices in various cities, including Baltimore, Washington, Los Angeles, and Austin.
Popular clients of the company include Raven, Drupal, DialogTech, New Relic, and RackSpace Hosting. The company was founded by entrepreneur David Duerr.
1SEO
1SEO is an SEO company with offices in Salt Lake City and Philadelphia. They specialize in affordable and effective SEO solutions for small businesses.
Michael's Jewelers, Healthy Rest Mattress, Tires4That.com, McCann Team, and Carlton Pools are among the clients they serve. The company was founded by Lance Bachmann.
Colorado SEO Pros has offices in Denver and Golden, Colorado. They provide SEO case studies for small businesses, helping them achieve success.
Their clients include Charter Communications, Surgery Practice, C-Suite Assistants, Recruitment Service Agencies, and Tech Consulting Companies. The company was founded by Chris Rodgers.
SEO Cares
SEO Cares is a company that helps businesses do better online by using SEO (search engine optimization). They have a team of experts who work hard to get great results for their clients.
SEO Cares offers various services like
Their goal is to achieve great results for their clients.
Search Berg 
This agency has its main office in New York. They specialize in affordable SEO services that cater specifically to small businesses.
Their goal is to optimize websites to attract customers, increase purchases, and improve search engine rankings for higher traffic.
In addition to SEO, they also provide web design services.
The company has successfully served clients like Vapoholic, Steve's Gutters, 123Connect, CWSA, Afluencer, and others, receiving positive feedback for their work.
Joseph Dyson is the CEO of this agency dedicated to optimizing small businesses.
Delante 
This group of SEO professionals focuses on optimizing websites for small businesses, aiming to increase their online visibility.
Their services help small digital businesses attract new users, generate leads, and improve sales.
With offices in Poland, New York, UAE, Canada, and the UK, they cater to clients such as:
CodeAndPepper
ZKlocków.pl

SoLovelyBox

Ovoko

Handmade Ornament Store
And others.
OuterBox 
This company excels in delivering effective SEO solutions for small businesses, offering a variety of website optimization services.
Their expertise covers areas like Amazon, B2B, Consulting, WordPress SEO, and more, ensuring precise and successful SEO campaigns.
Operating from Ohio, they cater to clients worldwide, providing services to businesses like Ultrasabers.com, Ink Ghostwriting, Lawless Hardware, Training Equipment Provider, ENP Coffee Co, and more.
Justin Smith is the founder of this SEO company.
Understanding SEO and Its Importance
SEO, also known as Search Engine Optimization, involves strategies to increase website traffic through organic search results.
SEO is super important in digital marketing.
It's about making your website look good to search engines by fixing things like design, content, and how easy it is to use.
For small businesses, SEO is definitely a big deal.
People use search engines a lot to find stuff, so having good SEO can help your business show up at the top of search results.
That means more people might see your business and become customers.
Also, SEO is a cost-effective way to market your business because it brings in free organic traffic from search engines.
This is great for small businesses with not much money to spend on marketing.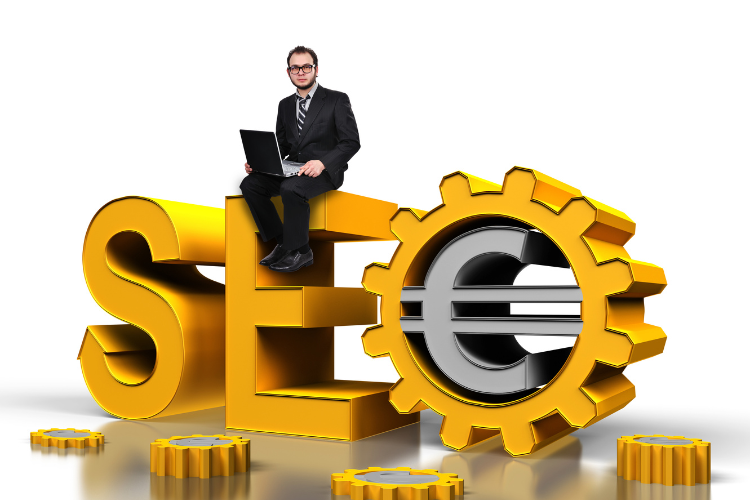 What are the best SEO companies for local SEO?
Here are some of the best SEO companies for local SEO:
ThriveAgency:
ThriveAgency is a full-service digital marketing agency, specializing in local SEO.
They've assisted businesses of all sizes in boosting online visibility, generating more leads and sales.
As a Google Premier Partner, they have a team of experienced SEO experts dedicated to business success.
Markitors:
Markitors is a digital marketing agency with a variety of services, including local SEO.
They have a team of experienced SEO experts focused on helping businesses reach their online marketing goals.
As a Google Premier Partner and a top SEO agency recognized by Clutch, Markitors is a reliable choice.
DigitalShiftMedia:
DigitalShiftMedia is a digital marketing agency that helps businesses grow online.
They offer services like local SEO, pay-per-click (PPC) advertising, and social media marketing.
As a Google Premier Partner and industry-recognized, they are a trusted choice.
Final Summary:
To sum up, it's really important for small businesses to find the right SEO company nowadays.
These experts can help them show up better online, get more customers, and make more money.
With the list of the best SEO companies for small businesses, entrepreneurs can get trustworthy and effective help with SEO.
Investing in SEO is a must for long-term growth and success online.
A well-optimized website is like a valuable tool that brings in more visitors and leads to more sales.
So, if small businesses want to do well and reach higher levels of success, putting effort and money into SEO is totally worth it.
Frequently Asked Questions:
What do SEO Agencies do?
SEO companies handle everything needed to improve a website's ranking.
They handle onsite and offsite optimization, including tasks like website design, keyword research, link building, and content marketing.
Their goal is to ensure that the website gets noticed and favored by search engines.
Expert SEO companies offer different services, including:
Making the page load faster.

Checking the schema markup.

Optimizing the website for mobile devices.

Assessing the quality of web pages, including length, keyword usage, and relevant links.

Obtaining quality links for your site.

Understanding what users are searching for.
What is the best SEO for a small business?
There is no universal answer to this question, as the best SEO strategy for a small business will vary depending on the specific industry, target audience, and goals of the business.
However, some general tips for SEO for small businesses include:
Do keyword research: This will help you identify the keywords that your target audience is using to search for products or services like yours.
Optimize your website content: This includes using the right keywords throughout your website content, as well as creating high-quality content that is relevant to your target audience.
Build backlinks: Backlinks are links that come from other websites to your website. They show Google that your website is important and reliable.
Track your progress: It is important to track your SEO progress over time so that you can see what is working and what is not.
How much does SEO cost for to small business owners?
The price of SEO for a small business can be different based on what the business needs and the level of help they want in SEO.
But usually, the cost of SEO can be anywhere between $100 to $1000 in all over the world.
Is SEO worth it for small business?
SEO can be a smart investment for small businesses.
When you make your website more visible in search results, you can get more people to visit your site.
This can help you sell more and make more money.
Is local SEO profitable?
Yes, doing local SEO can make you lots of money.
When your website appears more in local search results (Google Maps), more people who are looking for businesses like yours in your area will become your customers.
This can help you sell more and make more money.
Can SEO make you a millionaire?
It is possible to make a lot of money with SEO, but it is not likely that you will become a millionaire overnight. SEO is a long-term investment that takes time and effort to see results.
But if you keep doing SEO regularly, you will eventually notice a big difference.
You'll get more people visiting your website, more people interested in what you offer, and more sales as a result.
Does SEO need money?
You can do SEO on your own without spending any money.
However, it is much more difficult to do SEO effectively without the help of an experienced SEO professional.
If you are serious about SEO, then you will likely need to invest some money in order to see results.
The amount of money you spend on SEO will vary depending on the specific requirements of your business and the level of SEO service that you require.
Related:
15+ Top SEO Companies in USA for Businesses of All Sizes
11 Best Link Building Companies in 2023