Are you struggling to decide which SEO plugin between Rank Math vs Yoast will be the best option for your WordPress site optimization?
You always need a WordPress SEO plugin to optimize your WordPress site.
When you talk about the SEO plugins you will find the Yoast SEO as a leader of industry and it is used mostly.
But it does not mean that for WordPress SEO it is the only option.
You will find a number of options of SEO plugins for your WordPress site and RankMath is one of them.
And here we will have a thorough comparison between Rank Math vs SEO.
As compared to Yoast SEO Rank Math is a new SEO plugin in the industry but it has gained great popularity in a very short period of time and it has made a lot of fans around the globe which you can see from the Facebook group of Rank Math.
We are not comparing both of these SEO plugins to decide between a winner and a loser.
The purpose of their comparison is to highlight some important features of each one to make it easy for you to pick one which can fulfill your SEO needs like your budget and knowledge level.
So, at first, we will just learn about them a little more in-depth and then we will have a comparison between them.
Is Yoast good for SEO

?
The Yoast SEO plugin was launched in the year 2010 and now Yoast SEO is one of the best and top WordPress SEO plugins out there in the market.
Joost de Valk is the founder of Yoast and before the launch of Yoast SEO, he was an SEO consultant.
The Yoast SEO plugin fulfills all the needs of your WordPress website optimization and it is built exactly according to SEO best practices and needs and even if you will read an article about SEO of a WordPress site it seems that you are using the Yoast SEO plugin.
Except for its popularity with more than 288 million downloads, it is the most famous plugin of WordPress in the history of WordPress.
Is rank math Safe?
Rank Math is just the beginner in the field of  SEO WordPress plugins.
After a number of years of struggle and development, it was launched in 2018.
This SEO plugin was introduced by a reputed WordPress development team MyThemeShop.
After its launch, it has gained a reputation in a very quick time, and now it has become the second-best SEO plugin for WordPress site optimization.
You can see that it has increased the length of it's new features.
Actually, the All in One SEO Pack WordPress plugin has the second most WordPress downloads but in terms of momentum Rank Math now has more new downloads count.
Which is the best SEO plugin for WordPress Rank Math or Yoast?
Features Comparison of Rank Math vs Yoast:
Now we will compare Rank Math and Yoast SEO in more detail and first we will have a look at their features.
If you will compare the versions of Rank Math and SEO then you will see that Rank Math offers more features in its free version than Yoast SEO.
You may not like to use these extra features of Rank Math. That's why you can't say that Rank Math is better.
But you want to use these features then definitely Rank Math has an edge over Yoast SEO.
Premium Features of Rank Math:
Watermark social media images automatically for you.

History of Google AdSense earning

Predefined and 20+ Schema types

Integration of Google Trends

SEO Sitemap for Google Video

The sitemap for Google News SEO

It has a number of locations for local SEO

It tracks your keyword ranking for the last 12 months or 1 year. 
All the features of Rank Math are modular and whenever you think you don,t need some features you can easily disable them.
Free Features of Rank Math:
Its free version supports multiple keywords and analysis of focus keywords means that you can check your article optimization for a specific keyword by entering this keyword.

You can set a description for your social media. It manages the images and text of your Facebook and Twitter accounts.

You can set SEO meta descriptions and SEO titles for your pages and posts. You can also create templates to apply automatically to your content but you can also add SEO descriptions and titles manually for any content.

It automatically counts your content link whether internal links or external.

It helps to optimize your site for local SEO with a knowledge graph.

It creates a customizable XML sitemap that offers more features and it is more customizable than the default Sitemap of WordPress.

Rank Math automatically sets the title tags and ALT tags for image optimization of your site.

This SEO plugin controls the schema markup for individual comets and sets schema markup sitewide for you.

It automatically connects your website to Google Search Console and submits the sitemap of your website and you can also see the analytics of the search console in your dashboard.

You will get internal link suggestions from the Rank Math SEO plugin.

This SEO plugin also adds breadcrumbs to your website.

It also helps you with e-commerce setups like titles, products, and descriptions.

It also manages redirects like 301 and 302.

It also helps to set up Google analytics. You just have to add the tracking code.

It monitors 404 errors of your website and then redirects common 404 errors to other webpages of your website.
Yoast SEO Plugin:
As compared to Rank Math there are limited features in Yoast SEO but you will also get some premium add-ons features.
We have also discussed earlier the fact that Rank Math offers some features like internal linking suggestions, redirect manager, and multiple keyword analysis in it's free version that Yoast SEO offers in it's premium version only.
It offers the analysis of focus keywords like you just have to put a keyword and it will tell you about the optimization of content for that particular keyword.

It will add Schema markup sitewide.

It also connects your website with the search console after verifying it.

Yoast SEO plugin adds breadcrumbs to your site.

It also set social media descriptions like images and text for Twitter and Facebook.

This SEO plugin also contains a link counter which counts how many links your content have.

It will also create an XML sitemap that will be more customizable than the default WordPress XML sitemap.

The Yoast SEO plugin helps you with WooCommerce SEO and sets descriptions, titles, and product pages.

It sets a custom schema type for individual content pieces.

It sets a custom schema type for individual content pieces.

This SEO plugin creates templates to automatically apply SEO descriptions and titles to different content pieces.
Premium Features of Yoast SEO:
It contains the feature of internal linking blocks means that Yoast SEO will add a block that will add the relevant links automatically and you don't need to add internal links manually.

It extracts data from the SEMrush tool and generates relevant key phrases for your content.

It manages and creates redirects such as 301 and 302.

From Yoast SEO you will get suggestions on your website for internal linking.

It also analyzes multiple focus keywords.
For specific types of SEO, it also offers some other add-on features. Even these features you will get only in premium features of Rank Math. But Rank Math doesn't offer local SEO features in the free version.
You will get some more WooCommerce SEO features like a cleaner XML sitemap and social media graph information.

You will get a feature of listing or indexing your videos in Google videos and some other video optimization features.

Yoast SEO helps you with local SEO like it adds structured data for local businesses' graphs, supporting physical locations, and enhancing the contact page.

Moreover, Yoast SEO optimizes your website for ping Google when you publish a post, creates an XML sitemap, and also optimizes for Google news.
Setup Process Comparison Rank Math vs Yoast SEO:
The SEO plugins Rank Math and Yoast SEO both are good for some important SEO settings and both are user-friendly. After all, it depends upon you and your preferences.
Rank Math

Setup:
The Rank Math first opens a setup wizard which helps to configure important features when you launch it.
To unlock some extra features you can also link your free Rank Math account. 
It is necessary for you to connect your account to access all the features of Rank Math. The wizard works brilliantly and it offers an excellent experience for both advanced and basic users.
You can configure these settings from wizard:

XML Sitemap

Schema Basic Information

There is an option to integrate both Google Search Console and Google analytics.
After setting up the wizard you will also get the choice to set up the advanced option to get some extra features such as:
Monitoring 404 error

Redirection

Settings of Schema Markup

Role Manager
When the wizard setup will be finished it then you will go to the module manager which has every feature like:
Configure the enabled modules
Allow to disable or enable each and every module.
You cannot see all modules from Easy Mode. If you want to see every module then you have to enable a single module.

Yoast SEO Setup:
The Yoast SEO plugin also includes a configuration wizard-like Rank Math to start it running in quickly time and from the toolbar of WordPress you have to launch it.
You can also get any kind of help from a wizard while doing some important settings.
Templates of SEO titles

Implementation of Schema Data Sitewide
You will also get some important suggestions and tips from the dashboard of Yoast SEO which also help you to solve some important issues of your website.
Yoast SEO also uses a modular approach such as Rank Math through which you can enable or disable any feature you want to use or you want to avoid easily.
From the features tab, you can see different features of Yoast SEO and with the help of toggle, you can turn on or turn off any feature.
Interface Comparison of Rank Math vs Yoast SEO:
While having the comparison between Rank Math vs Yoast SEO we have also observed differences between their interfaces.
But now we will compare their interfaces properly and observe differences in how their user interfaces work for daily routine actions like setting or optimizing a single post or page content.
Here we will also show you some different and unique parts of their interfaces.
Interface of Rank Math:
Rank Math can totally integrate with a block editor if you are interested in using a WordPress block editor.
This means that you will not use the meta box approach of Classic editor.
If you want to open the settings of Rank Math you just have to click on the Settings icon from the toolbar.
There are four tabs of sidebar settings:
Schema tab which sets up structured data or schema markup of your site.

General tab through which you can set focus keywords for your post or page, edit the details of the snippet, and also watch the analyzes.

The advanced tab helps you to configure meta information for robots like they add a tag or noindex.

Social tab to set up the graphical information of social media such as Twitter and Facebook. 
The analytics interface of Rank Math is also one of its unique parts of the interface.
It depends upon whether you have the premium or free version which allows you to track:
Performance and ranking of different keywords. Paid version Feature.

You will get search console reports like the position of keywords and search impressions. You will get this feature in the free version of Rank Marth.

Stats of website traffic through Google Analytics and its premium version feature.

Interface of Yoast SEO:
There are two ways in Yoast SEO to set the information of SEO for an individual or single post or page while working in Yoast SEO editor.
There will be a meta box under the editor and you will get this meta box in both classic and block editors.
In the sidebar, you will get a new option by using the block editor.
According to your requirements, you can select any approach but it will be better to choose the approach of meta box and you will not get the meta box option in block editor in the Rank Math SEO plugin.
But you can access all the options in just one column by using the sidebar in the block editor.
To view more information you can also expand each section. Let's take an example:
you can set up a schema for a single post or page from the section of schema only if you have enabled Schema markup settings.
Moreover, you can view the information of the snippet in a pop-up by clicking on the "preview" options.
The second option is using the meta box that you will find under the editor which divides the settings into four columns.
Schema option which you can select for any individual post or page. 

Readability option through which you can see the analysis tips of readability. 

Option to set meta descriptions, and titles, control advanced settings like robot tags, to view keyword analysis and canonical links.

Furthermore, social setup options for graphical information of social media such as Twitter and Facebook.

Keyword Analysis comparison in Rank Math vs Yoast SEO:
While creating content for your website both Yoast SEO and Rank Math provide keyword analysis.
This means that you can add the targeted keywords to your content and the SEO plugin will help and analyze to fully optimize your content. 
It has one more section but in the end, it all depends upon you and your preferences regarding which interface you like the most.
But one benefit of Rank Math is that it offers to analyze a number of keywords in its free version as well.
You can analyze a single keyword with a free version of Yoast SEO but if you want to analyze multiple keywords you can use the premium version of Yoast SEO.
Keyword Analysis in Rank Math:
Rank Math allows you to analyze upto 5 focus keywords at one time in its free version.
You just have to enter the keywords you want to focus on or target:
It will give you a list of tips on whether you want to implement it or not. Like whether your SEO title contains the focus keyword and how many times you need to use the focus keyword in content to optimize it.

With color-coding it will give you an SEO score from 0 to 100 and you will get green color for an SEO score of more than 80.
All the on-page SEO best practices are included in suggestions of Rank Math like description, title, and readability.
By clicking on the different keywords in the list you can easily toggle between them.
As an example, the analysis will change by changing the focus keyword.
Keyword Analysis in Yoast SEO:
You can only analyze a single keyword in the free version of Yoast SEO for each post or page.
But you can analyze a number of keywords by using the paid version. As we have explained earlier, you can view the tips of analysis in either the meat box below the editor or in the sidebar of the editor.
This analysis works the same as Rank Math.
Like you will get an SEO score and a list of suggestions to optimize your content after entering your targeted keyword.
There will be only three color options: Green, Yellow, and Red instead of the numeric rating. Due to this Yoast SEO score is not very specific.
With this same scoring system, Yoast SEO offers separate analysis for readability and it has the same scoring system as SEO.
The analysis of readability could be different as the scoring feels casual.
Like you can turn red to green just doing a simple change in your content.
Generally, it is important to focus on the specific readability as compared to the actual score of readability.
Pricing Comparison Rank Math vs Yoast SEO:
From Wordpres.org you can get both Yoast SEO and Rank for free.
But the premium versions with some excellent and premium features are also available.
But Rank Math was free for a long period of time without the premium version.
The premium version of Rank Math was launched in the year 2020 in November.
It doesn't affect any features from its free version rather it adds more premium features in its paid version.
There are three reasons why the premium version of Rank Math is more affordable than the Yoast SEO premium version
You can use the Rank Math pro version for a number of websites but you can use the Yoast SEO premium version on a single site.

The price of the Rank Math plugin is very reasonable and cheap as compared to the Yoast SEO.

You will get all the premium features in a single plan of Rank Math but the Yoast SEO has different premium plans. Such as you have to pay money separately if you want support for local SEO.
Pricing in Rank Math:
For the premium version of Rank Math, you will get two plans which are pro and business. 
The price of the Rank Math pro version is 59$ and you can use it to track upto 1000 keywords for personal sites.

Its business version price is 199$. You can track upto 20,000 keywords and use them on your personal and your client's website as well.
These are special launch offer prices but if Rank Math charge full without discount then its prices are
129$ for Pro Version

429$ for Business Version
We can't guess whether the prices of Rank Math will remain in the future or will get changed.
Pricing in Yoast SEO:
Yoast SEO plugin has two premium versions.
The first one is the core premium plugin which includes premium features such as internal link suggestions and multiple keyword analysis.
For a single site, the cost of a core premium plan is 89$.
But you can also get Yoast SEO premium for multiple sites. 
In the rivalry of Rank Math vs Yoast SEO, one thing is pretty sure both of them are quality plugins for WordPress SEO.
Because the reviews and numbers always tell the truth.
It does not matter which plugin you are going to choose because both will provide you an excellent SEO experience.
It all depends upon you like which plugin best fits your needs.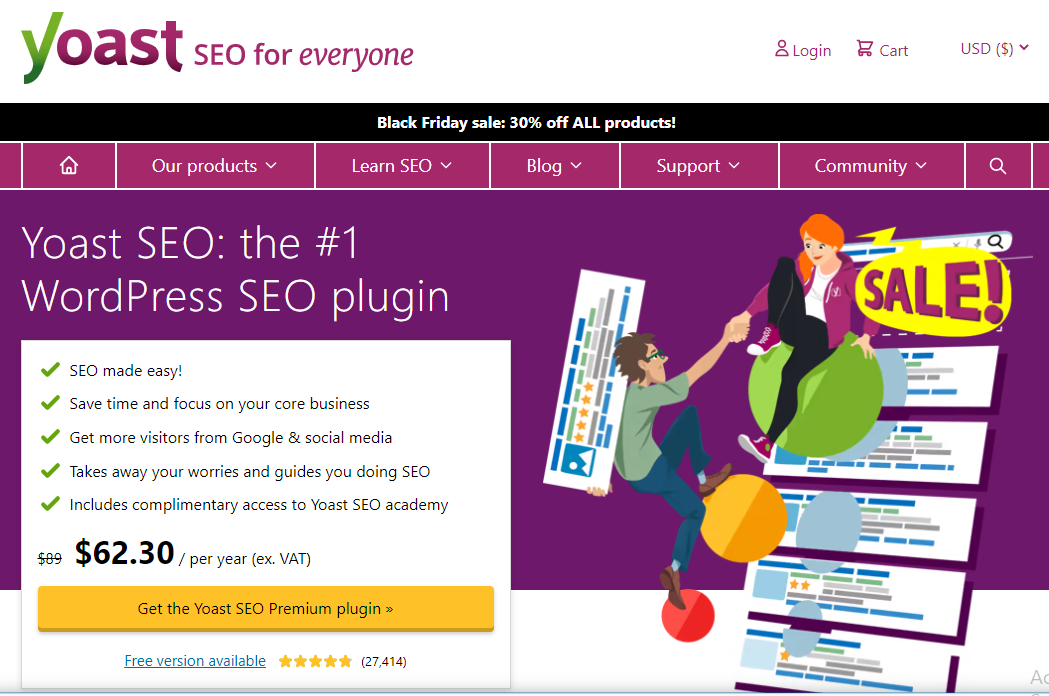 Hire SEO Cares for Professional SEO and Digital Marketing Services:
Being one of the professional and reputed SEO company, We know what is the importance of SEO and SEO strategies for an online business or company.
In different types of online industries, our SEO and digital marketing experts team has driven results for different online business websites.
They are getting positive results in the form of sales and revenue.
That's all because we are aware of the importance of multimedia, keywords, and website content and how we can use it to rank higher on the first page of the Google search engine.
Here is another comparison: Jetpack vs Yoast: 2023 Comparison