Google Sheets is a powerful tool for managing data, and with the right add-ons, it can also simplify your SEO tasks.
In this article, we'll take a look at some of the top SEO tools for Google sheets that can help you streamline your SEO workflow.
Top SEO Tools for Google Sheets to Boost Your SEO Efficiency
Let's dive into the list of 16 SEO tools add-ons for google sheets that can help you take your SEO game to the next level.
Search Analytics for Sheets
Search Analytics in sheets is an excellent option for those who want to access their Google Search Console data without having to code.
With this add-on, users can quickly retrieve important information like clicks, impressions, average position, and CTR.
The best part is that it offers the ability to aggregate data dimensions that are not available in the Google Search Console web app.
Additionally, the add-on allows users to increase the row limit from 1000 to a maximum of 50,000, which makes it easier to collect a more substantial amount of data for analysis.
This feature is particularly useful for businesses or individuals who need to analyze large datasets to make data-driven decisions.
Overall, Search Analytics is a powerful tool for SEO data analysis that can help users uncover valuable insights about their website's performance.
Features:
Ability to import search console data directly into Google Sheets

Detailed reporting on search performance, including clicks, impressions, click-through rates, and average position

Option to filter and sort data based on various parameters such as country, device, and date range

Daily or monthly backups for Search Analytics data per site/property

Unlimited backup copies

Aggregated and filtered backup options

Provides insights on top-performing queries, pages, and countries for your website

Allows you to compare different queries, pages, and devices for analysis

Includes customizable reports that can be scheduled and automatically updated with new data.
Google Analytics Sheets Add-on
If you want to access all the data available on Google Analytics, the go-to add-on is a very popular choice.
It's known for its quick and easy dashboard generation capabilities, allowing users to effortlessly gather Analytics data and even create visually appealing reports.
One of the key benefits of this add-on is that it also offers the ability to derive calculated metrics using spreadsheets, which makes analyzing data and drawing insights from it even easier.
With this tool at your disposal, you can more easily make informed decisions based on the data, as well as track the performance of your website or online business.
Overall, this add-on is a great option for anyone who needs to access their Google Analytics data and make sense of it in a streamlined and efficient way.
Features:
Import Google Analytics data directly into Google Sheets

Choose from various data types, such as Sessions, Users, and Bounce Rate

Filter data based on metrics, dimensions, segments, and date ranges

Query data from multiple views

Create reports and visualizations

Embed visualizations in third-party websites

Automate report execution and updates

Automatically refresh data at set intervals

Create custom reports and dashboards

Export data to PDF or CSV formats.

Supermetrics
Supermetrics is a great tool for SEO data gathering and analysis. It offers all the essential data sources you need, including Google Search Console, Google Trends, Google Analytics, Google Business Profile, SEMrush, Moz, Ahrefs, and Optimizely.
With just one add-on, you can connect all these data sources to Google Sheets and process the data using various features such as filters, personalized views, and pivot tables.
Another great thing about Supermetrics is that you can schedule data collection, email delivery, or PDF creation based on specific conditions. This makes it easy to automate data-related tasks and save time.
Overall, Supermetrics is a comprehensive solution for anyone who wants to handle their SEO-related data gathering and analysis needs with ease.
Features:
Connect to various data sources including Google Analytics, Facebook Ads, LinkedIn Ads, and more;

Automate data extraction from multiple sources with scheduled refreshes;

Create custom queries and reports with a user-friendly interface;

Easily transform and clean up data with built-in data manipulation tools;

Share and collaborate on reports with team members.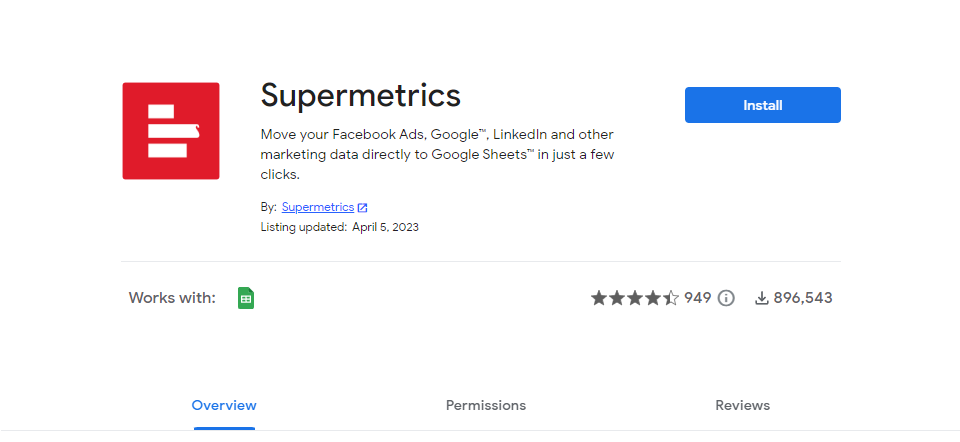 Moz API for Sheets
If you are a fan of using Moz for SEO, then you should definitely give the Moz API for Sheets a try.
The best part is, you don't even need a Moz account to use this sheet! Simply sign up for a free plan, and you can access domain authority and page authority data for up to 200 URLs at a time.
The Moz add-on also includes built-in formulas that make data analysis much easier and more efficient.
So whether you're a seasoned Moz user or just starting out, the Moz API for Sheets is definitely worth checking out for all your SEO data needs.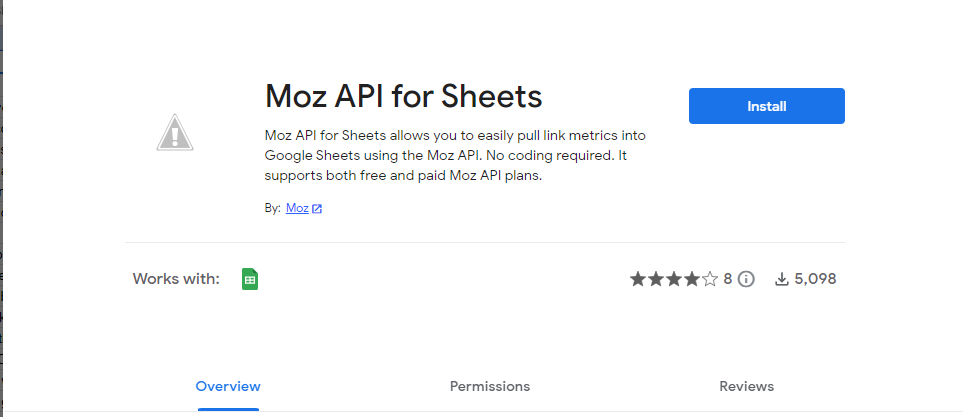 API Connector
API Connector is a popular and user-friendly add-on that makes connecting to APIs easy. It has pre-built connections to popular APIs like Google Search Console, Ahrefs, Google Analytics, and Majestic SEO.
Even if you need to connect to a custom API, API Connector can help with its flexible configuration options. Setting up a connection is simple and takes only a few clicks.
Data extraction is also fast and efficient, which makes API Connector a great choice for users who want to simplify their API integration process.
Features:
Import data from any API directly into Google Sheets

Create custom API requests with a user-friendly interface

Schedule automatic updates for imported data

Share API requests with others for collaboration and teamwork

Integrate with popular APIs such as Shopify, Trello, and more

Free plan available
Add-ons For Semantic SEO
If you're tired of manually analyzing keywords and texts on your website, you might want to consider using Semantic SEO add-ons for Google Sheets.
These add-ons can save you time and effort by automating certain processes, such as generating structured data from ranking keywords or analyzing the search intent of a group of keywords to develop an effective SEO strategy.
In this article, we will take a closer look at some of the best add-ons for Semantic SEO to help you streamline your keyword analysis for SEO.
Majestic
Using the Majestic add-on requires a subscription, but the setup process is simple.
With this add-on, you can choose to use the Data Extractor to obtain a wealth of data about a specific domain, similar to what is displayed in the provided screenshot.
Another option is to utilize the Data Augmentor feature, which allows you to gather metrics for a group of URLs.
Overall, the Majestic add-on is a powerful tool for those looking to gather detailed data about their website or a competitor's website in Google sheets.
Features:
Quickly analyze the backlink profile of any website using Majestic's index.

Obtain detailed information about any backlink, including anchor text, referring domains, and citation flow.

Monitor the progress of backlink campaigns with daily or weekly updates.

Visualize the backlink data in customizable charts and graphs.

Access additional data from Majestic's API, including topical trust flow and category data.

WordLift's SEO Add-on for Google Sheets
The SEO Add-on by WordLift is an excellent tool for anyone interested in enhancing their semantic SEO markup.
This add-on is designed to generate structured data using the terms present in your spreadsheet.
Additionally, it has the capability to retrieve up to 1000 queries from the Google Search Console API at a time.
By using this add-on, you can quickly and efficiently collect data for your SEO strategy. 
This SEO Add-on is user-friendly and easy to install. No technical expertise is required to use it.
The add-on comes with a step-by-step guide that simplifies the process even further.
Features:
Automate metadata optimization for better SEO;

Leverage the power of structured data and semantic technologies to create rich content and boost website traffic;

Generate semantic metadata that search engines understand and use to rank your website higher;

Extract insights from Google Analytics and search console data to understand user behavior and optimize website content;

Create custom reports to monitor website performance and track progress over time.
Keyword Research (By Digital Mozarts)
Keyword Research (By Digital Mozarts) add-on simplifies the process of keyword research for SEO professionals by providing them with a helpful tool.
With this add-on, you can easily discover new related keyword ideas and topics. With a single click, it can generate new worksheets with templates for multiplying and concatenating sets of keywords.
Moreover, it provides dozens of keyword ideas based on Google suggestions, making it easier for you to perform keyword research and find relevant keywords for your content.
This add-on is a great resource for SEO professionals looking to streamline their keyword research process.
Features:
Access to 5+ keyword research tools within Google Sheets

Generate keyword ideas and analyze keyword difficulty

Retrieve search volume and CPC data for keywords

Extract SERP data and analyze competitor content

Integration with Google Search Console to view search analytics data

Hunter
Hunter is an efficient and user-friendly add-on for Sheets that can locate email addresses in your spreadsheet.
You can sign up for free, and the add-on includes 100 monthly searches, with the option to upgrade for more. It has two modes, Domain Search and Email Finder.
The Domain Search mode enables you to enter a domain name and receive all public email addresses associated with it.
Each email address has a confidence score that indicates its accuracy.
The Email Finder mode lets you choose specific columns, such as first names, last names, and company names, and it will automatically add the corresponding email addresses to your spreadsheet along with their confidence scores.
Features:
Find and verify email addresses associated with a domain

Validate and score email addresses for deliverability

Search for specific email addresses or names

Export email addresses in CSV format

Retrieve public information on domains and organizations
AdStage
AdStage for Google Sheets is an add-on that allows users to extract data from various ad platforms, including Google Ads, Facebook Ads, LinkedIn Ads, and Twitter Ads, and bring it directly into Google Sheets for analysis.
With AdStage, marketers can easily create custom reports and dashboards, automate repetitive tasks, and optimize their ad campaigns by analyzing performance data in Google Sheets.
AdStage's integration with Google Sheets makes it easy to collaborate with team members and share insights across an organization.
Monkey learn's

Text Analysis
Monkey Learn's Text Analysis tool simplifies the process of analyzing text data from a semantic perspective.
Its Sentiment Analysis feature can analyze hundreds of comments on your blog articles, giving you instant feedback on your published content.
Additionally, it's useful for analyzing your competitors' web content and understanding their search intent. With its AI-powered technology, Monkey Learn's Text Analysis tool is an all-in-one solution for performing text analytics.
Features:
Analyze text data in your Google Sheets using machine learning models

Extract relevant information such as keywords, entities, and sentiment from your text

Customizable and pre-built templates available to speed up the analysis process

Integration with MonkeyLearn API to access pre-trained models or train your own

Simple setup and user-friendly interface for easy use.
Q + A (Google My Business)
The Agency Automators add-on for Google Sheets is a handy tool that lets you manage your Questions and Answers using the Google My Business API.
It simplifies the process of adding questions and answers to GMB locations and helps you resolve customer queries quickly.
With this tool, you can improve customer engagement and boost conversions. It also allows you to edit and delete questions and answers with ease.
Features:
Pull questions and answers from Google My Business listings into Google Sheets

Filter and sort Q&A data based on criteria like keywords, answer length, and date range

Analyze Q&A data to identify trends and insights

Export Q&A data to other tools or platforms for further analysis and reporting
Keywords in Sheets
Keywords in Sheets add-on provides a variety of valuable and free tools to help with technical SEO tasks.
Some of these tools include checking status codes, retrieving cached pages from the Wayback Machine, examining redirects, and fetching URLs from sitemaps.
However, the add-on's primary function is to turn your spreadsheet into a live keyword monitoring tool.
This feature allows you to gain insightful data on keyword volume, related keywords, and competitor keywords.
With Keywords in Sheets, you can streamline your SEO tasks and get valuable information at your fingertips.
Features:
Offers various free tools for performing technical SEO tasks

Provides valuable insights into keyword volume, related keywords, and competitor keywords

Can check the status code and retrieve cached pages from the Wayback Machine

Can examine redirects and fetch URLs from sitemaps

Transforms your spreadsheet into a dynamic keyword monitoring tool

Track 1000 keywords at once.
RankTank
RankTank is a fantastic add-on designed solely for keyword tracking and does an excellent job at it.
The setup process is straightforward, and the data presented is clear and concise.
With RankTank, you can monitor your keywords' progress in real-time on both desktop and mobile SERPs, and it also provides the option to filter results by language.
Moreover, you can track the position of ads and local SERPs, making it a comprehensive keyword-tracking solution.
Features:
Specifically designed for a keyword tracking

Easy to set up and use

Provides clear and concise output data

Real-time monitoring of keyword evolution for desktop and mobile SERPs

Allows filtering of results by language

Can track the positioning of ads and local SERPs.
SEOmonitor
SEOmonitor is a top-notch keyword tracking tool. It lets you keep a close eye on keyword positioning and gather essential data like search volume, variations, desktop/mobile positioning, and calculated metrics.
Unlike other SEOmonitor add-ons, it merges with the web version's proprietary API to blend the two working environments.
This powerful feature enables you to add extra information, such as a keyword's search intent or assigned tag. Moreover, the add-on offers pre-designed templates, making it a breeze to create SEO reports in mere seconds.
Features:
Track keyword positioning and gather important data such as search volume, variations, desktop/mobile positioning, and calculated metrics.

Integration with the web version's proprietary API to merge the two working environments and include supplementary information like a keyword's search intent or assigned tag.

Pre-built templates for creating SEO reports in seconds.
How To Install Add-ons in Google Sheets?
To install add-ons in Google Sheets, follow these steps:
Open a Google Sheets document.

On the top menu click on 'Extensions" and click on the "Add-ons" tab.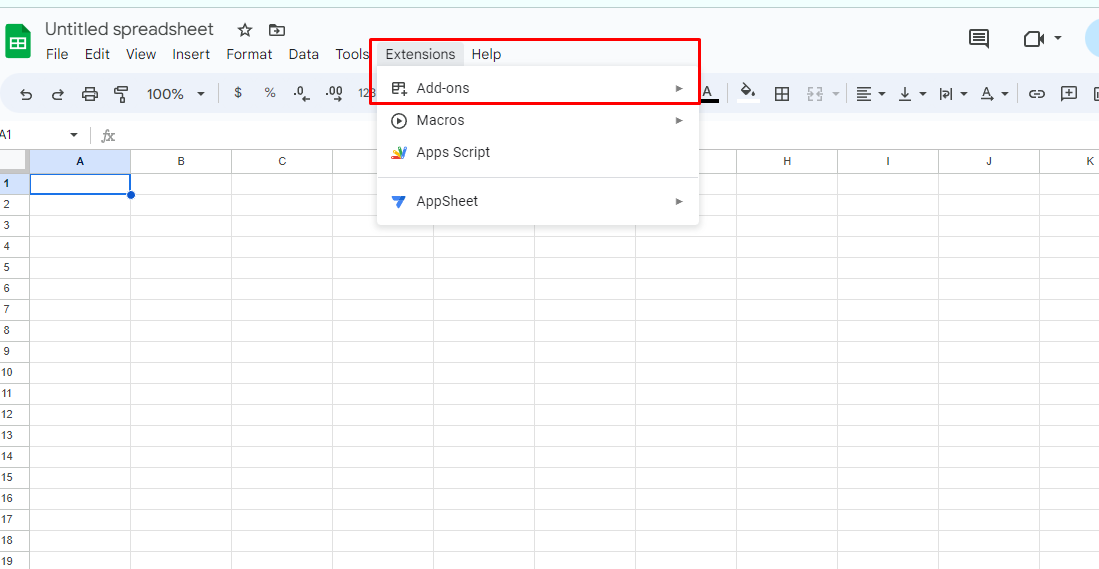 Select "Get add-ons" from the drop-down menu.

Browse or search for the add-on you want to install.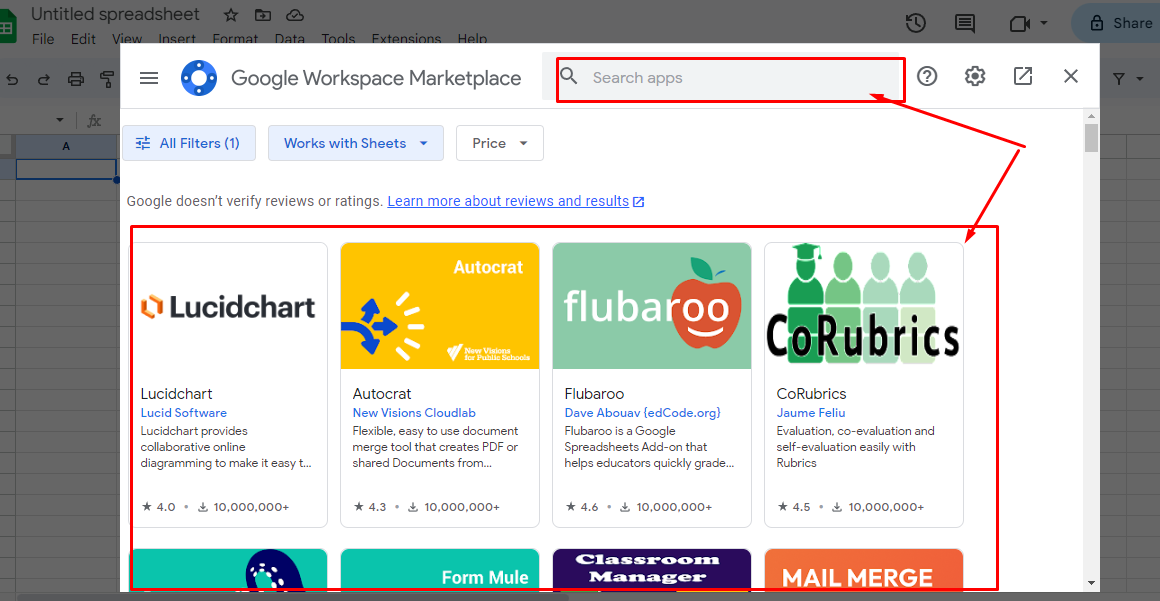 Click on the add-on and select "Install."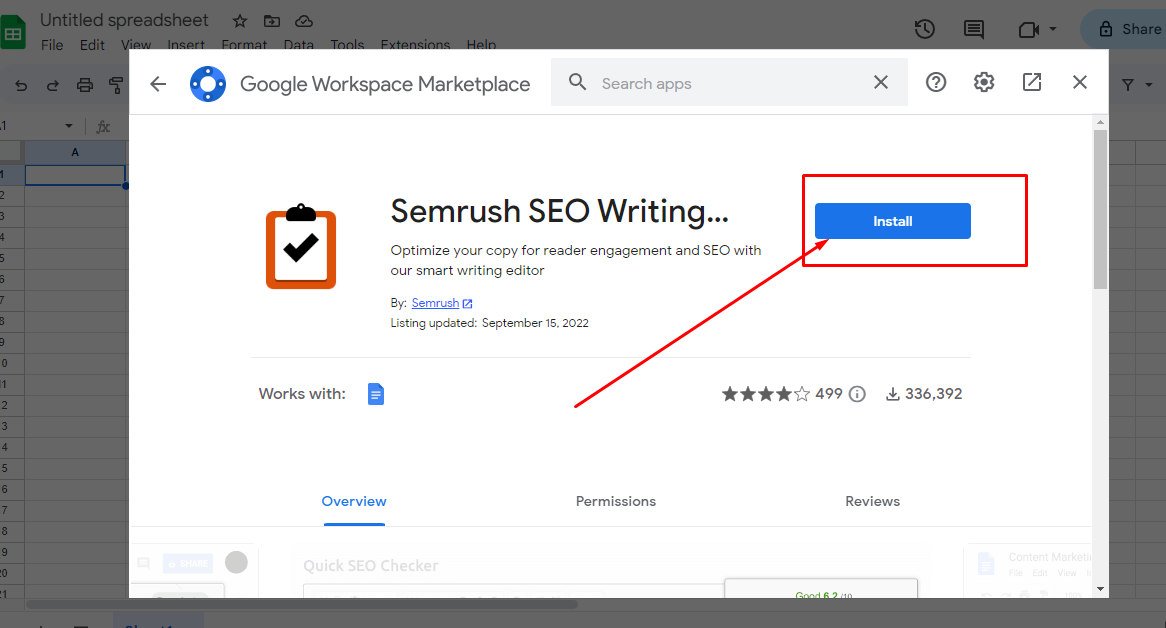 If prompted, review the add-on's permissions and click 'Continue" or "Allow" to grant access.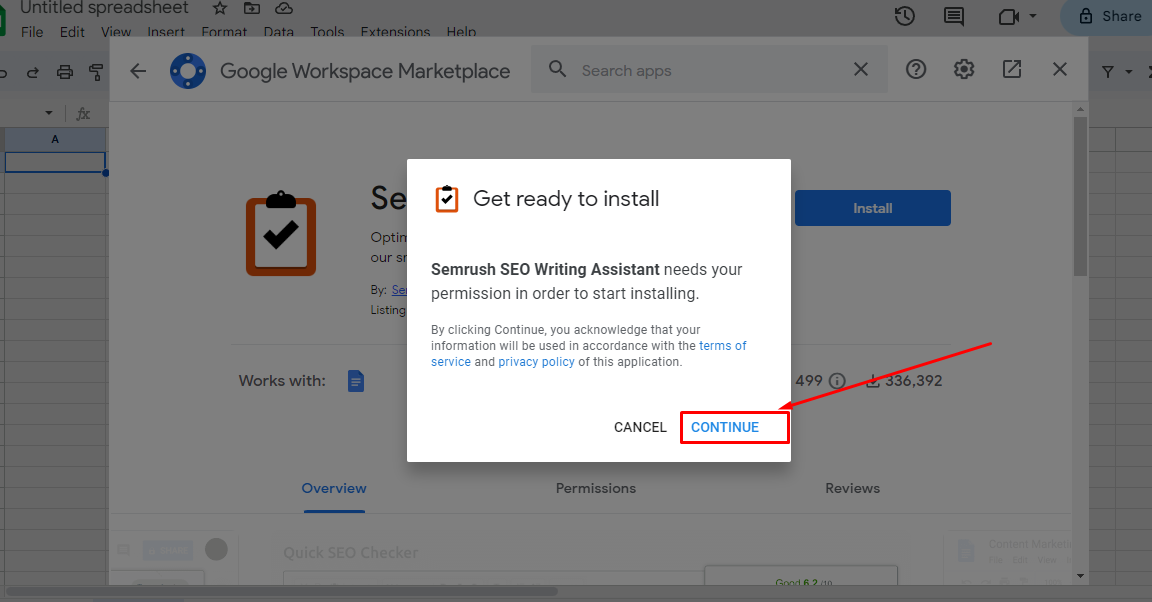 Once installed, the add-on will appear under the "Add-ons" tab in the top menu.
Note: Some add-ons may require additional setup or configuration before they can be used.
Be sure to read the instructions provided by the add-on developer for more information.
FAQs on SEO tools for google sheets
What are Google Sheets used for?
Google Sheets can be used for a variety of tasks, including data analysis, project management, budgeting, and more.
It is especially useful for collaborative projects, as multiple users can access and edit the same document in real-time.
What are some benefits of Google Sheets?
Google Sheets offers many benefits over traditional spreadsheet programs.
It is cloud-based, which means that multiple users can access and collaborate on the same document simultaneously.
Additionally, it is free to use and offers a variety of features, including real-time data updates, built-in formulas, and customizable charts.
Is Google Sheets hard to learn?
Google Sheets is considered to be relatively easy to learn, especially for users who are already familiar with Microsoft Excel.
The interface is user-friendly, and Google offers a variety of online resources and tutorials to help users get started.
Is Google Sheets same as Excel?
Google Sheets and Microsoft Excel are both spreadsheet programs, but there are some key differences between the two.
Google Sheets is cloud-based and free to use, while Excel requires a paid subscription and is installed on a user's computer.
Additionally, Excel offers more advanced features and capabilities, while Google Sheets is more user-friendly and accessible.
What are SEO tools for Google Sheets?
SEO tools for Google Sheets are add-ons or extensions that allow users to gather and analyze search engine optimization (SEO) data within Google Sheets, a popular spreadsheet software.
Why would I need SEO tools for Google Sheets?
SEO tools for Google Sheets can be beneficial for digital marketers, SEO specialists, and website owners who need to gather and analyze data for their SEO campaigns.
By using these tools, they can automate data gathering and analysis, save time, and make more informed decisions.
What are some popular SEO tools for Google Sheets?
Some popular SEO tools for Google Sheets include SEO Tools for Sheets, Supermetrics, and SeoTools for Excel.
Are SEO tools for Google Sheets free?
Some SEO tools for Google Sheets are free, while others require a subscription or payment. The features and functionality of each tool can vary depending on whether it is free or paid.
Can I use SEO tools for Google Sheets with other SEO software?
Yes, many SEO tools for Google Sheets can be integrated with other SEO software and tools, such as Google Analytics, Google Search Console, and SEMrush.
This allows users to gather data from multiple sources and create comprehensive reports.
How do I install SEO tools for Google Sheets?
To install SEO tools for Google Sheets, you need to access the Google Sheets add-on marketplace and search for the tool you want to use.
Once you find it, click "Install" and follow the prompts to authorize the tool to access your Google Sheets account.