People must be able to find your product listings to sell on eBay. Here is why eBay SEO can be useful and how to do it.
What is eBay SEO?
eBay SEO refers to improving the user experience for customers by optimizing your listings and seller profile.
The good news is that you can do it without specialized software or technical knowledge.
With a checklist of things to do and a model you can copy, we'll show you precisely how to optimize your eBay listings.
Optimize your eBay listings
You can boost the SEO of your eBay listings by focusing on two main factors: conversions and keywords.
No doubt, keyword research will be essential, and conversions will also contribute to increased sales.
Optimize your listings for keywords
Keyword searches can be done in a variety of ways on eBay. Users can write any free-form keywords in the search bar and press search; Cassini will then search every page of eBay for the desired items.
Additionally, customers can define which categories they would like to look in.
To dig down and locate exactly what they're looking for, many buyers use eBay's robust filters to define keywords like size, color, and condition.
In this case, there are almost 125,000 results for the "White Samsung Galaxy watch."
They can find the exact item they wish to buy by focusing their search on details like size, pattern, sleeve length, material, style, and delivery options.
Your listings must contain the keywords that users are looking for in order to appear in searches. This is why you should complete all of the fields; the more thorough your listings, the better your rankings.
You have many possibilities on eBay to add details to your listings.
Using keywords will help you optimize this information.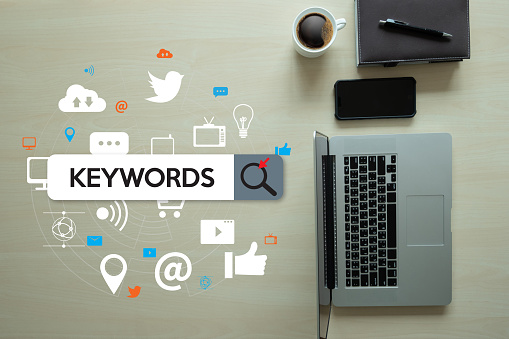 Using eBay's search bar for keywords
Observing how customers search for every product is the quickest method to find product keywords.
You can do so by simply writing your product name in the search bar using simple forms (for example, sweatshirts for men, and headphones).
You can then use all of the well-known eBay keywords that are listed underneath the search bar.
Keywords finding Tools
You can also use keyword tools that SEO experts use to improve Google searches, such as Google Keyword Planner (free) and Ahrefs (paid tool), to obtain more specific keyword ideas.
Or, you can use tools designed specifically for eBay, like Keyword Tool.
Although the free edition of this tool does not include search volumes.
But it does provide some keyword suggestions.
Terapeak, an effective tool created by eBay for keyword research and other purposes, is only available for free to eBay Store subscribers.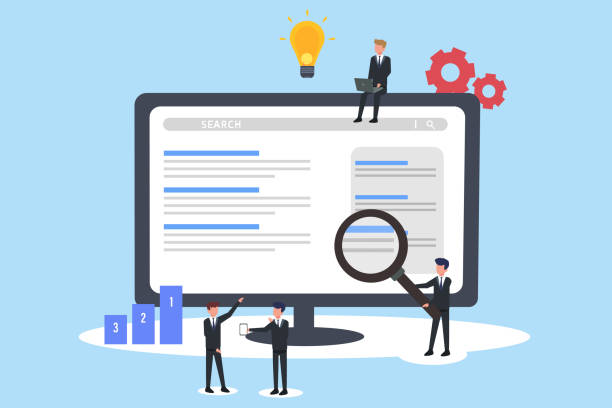 Product Title
One of the most crucial aspects of eBay SEO is the product title because search engines use it as their starting point when determining what the product is.
Utilize the entire 80-character limit.
Use keywords to make your product appealing to consumers and search engines equally because this area is worth its weight in gold.
Put your most crucial keywords in the product title.
For the title to be focused on, make it readable to attract more buyers.
As you type in your listing title, eBay provides keywords because it wants you to produce an excellent listing. You can tap on it to add them.
eBay will recommend a few words as we start inputting our keywords.
Make it simple for buyers to understand what you're selling. However, you only need to have your keyword appear once, so don't overdo it or don't do keyword stuffing.
Don't just combine words to create just a title for your item. Make it interesting and meaningful to read yet simple.
Only 80 characters are available for use in your title. Your title should be as concise as you can without compromising its meaning and quality.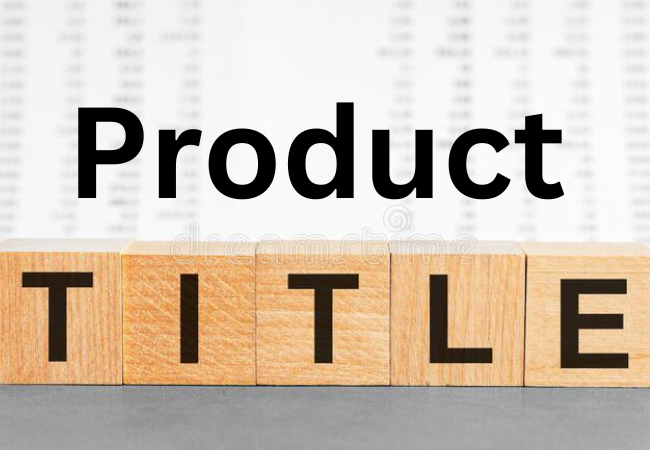 Description field
You have the best chance to sell your ad with detailed information in the description area.
To have this page appear in searches, you may also add keywords below.
eBay gives you 200 words to optimize even though this section is labeled as optional and eBay advises you to use original adjectives and write naturally.
Include in the description all the information a buyer would need, such as the item's size, origin, list of components, information on any faults, etc.

Natural keyword usage: According to eBay, the first 5% to 7% of the description should be made up of your most significant keywords.

Make your listing easier to read by adding formatting, such as bolding, to indicate prominence.

If your content can be better organized with a hierarchy of headings, use tags in the HTML editor.

If adding backlinks will actually benefit the user, then do so.

Utilize anchor text that summarises the target page.

Highlight the advantages of your products.

Be honest if your product is slightly broken or any detail about the product.

Keep your description short and simple.
Create relevant, engaging content
In order to avoid getting reported by eBay, it's critical to provide correct content; yet, a good listing should also be comprehensive and interesting.
The pleased both your buyers and eBay will be when you deliver more relevant and key information regarding the goods and your delivery experience.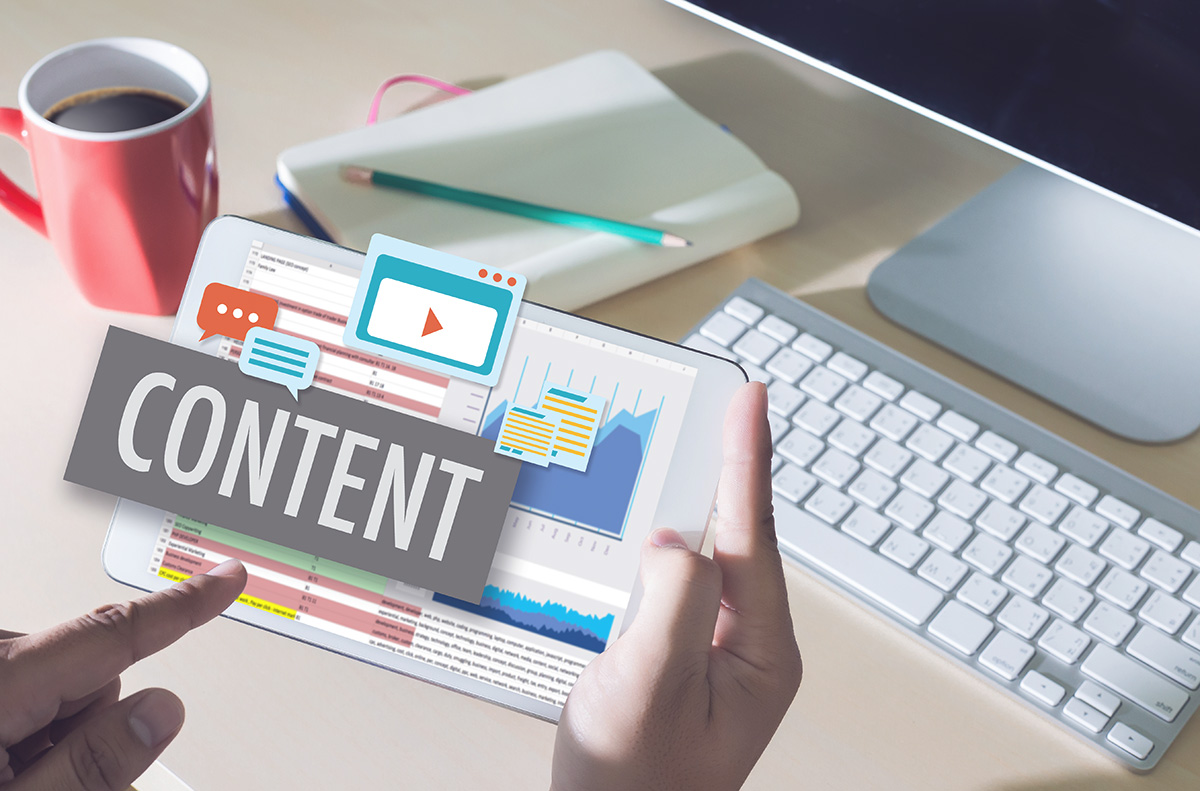 Include Clear and Effective Product Images
A positive user experience is prioritized by all search engines, including eBay's (UX).
You must utilize high-quality photos in all product listings because of this.
When you consider the title example from above, ask yourself if the title or the image would have caught your attention more quickly.
Consider using a professional photographer if at all possible. However, if you don't have contact with a professional, you can still get attention by taking your own pictures.
The following are best practices for shooting your own eBay listing photos:
Good lighting

Neutral backgrounds

There should be no extras like borders, collages, or thumbnails.

Clear pictures illustrating all details

Authentic and real product pictures

If your products have any damage, don't conceal them.

In order to let your buyer know what to expect, you might want to highlight it in one of the extra photos in your listing. On the page for an item, there can be up to 12 images.
Use ALT text for listing images
For eBay listings, adding alt text for the listing photographs can also benefit from SEO.
A more sophisticated technique to use keywords is in the image alt text.
Search engines can learn more about a picture by reading its alt text, which is a brief (around 125 characters or less) description of the image.
Alt text is crucial for accessibility since it will show up even if an image cannot, which is useful for those who are unable to see them.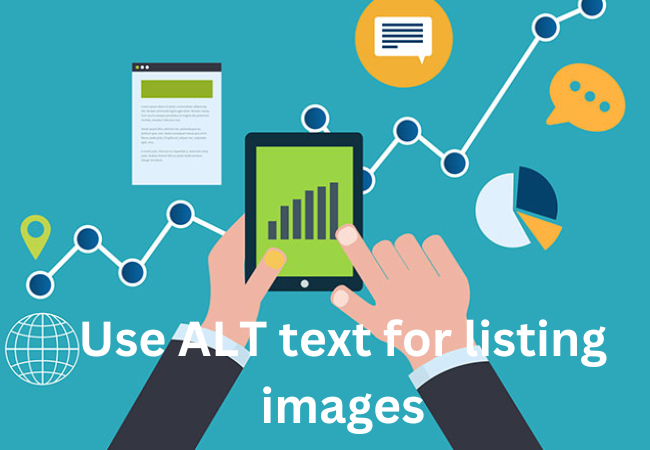 Make Your eBay Listings Accessible
SEO has an essential component called accessibility. Making your store accessible involves making it simple for customers who struggle to read text due to visual impairment or another issue.
Search engines prioritize pages made with accessibility in mind since they want to provide a great UX for all people.
You should therefore pay attention to how easily accessible your eBay store is.
To make your shop more reachable:
Add image alt tags. To help screen readers explain what's on the screen to users who are blind or visually challenged, image alt tags must briefly and clearly express your graphics.
For improved discoverability, use your keywords in the alt text of your images.
Utilize text wisely. Use an easy-to-read font size, brief words and paragraphs, and easy-to-read colors when writing your descriptions (just like, you should use the black color font on a white background rather than the yellow colored font on a white background).
Correct Spelling and grammar. In addition to making some people click away from pure irritation, bad grammar and spelling can make things needlessly unclear for those who use screen readers because misspelled words can be difficult for them to read.

Optimize your listings for conversions
Do consumers visit your website and then click, view, and purchase your product? A conversion is when and what they do.
Although it is a separate discipline within itself, conversion optimization also affects SEO outcomes.
Your listings on eBay are more likely to rank higher in the search results if you make it simple for customers to purchase your goods.
When consumers engage in a listing on eBay, it shows that a product is popular, then the listing is given more visibility.
How effectively the listing satisfies the customer is shown by its conversion rate or the percentage of people who act after seeing the product.
Additionally, conversion optimization will increase your eBay sales!
The parameters like shipping options, pricing, your title, photos, and description, all have a significant impact on conversions.

In your title and featured image, be as specific and accurate as you can. This will stop visitors from "bouncing" or clicking away from your listing without engaging.

Include a list of specific advantages. For instance, you may mention the product's original price.

Make sure your prices are reasonable and offer discounts.

Offer free delivery.

Provide a welcoming return policy.

Use eye-catching, high-quality photographs to convince users to select your listing over others.

If you want to convey urgency or build trust, add items to your featured image.
Use the Correct eBay Item Category
It's crucial to pick the right category for your eBay listing. If you enter "watch" in the category field on eBay, it can automatically pick "wristwatch" for your item.
If you don't fix it, though, this will confuse customers and the Cassini algorithm about what you're selling, a pocket watch or a wristwatch.
If you believe your product would sell well in even more than one category, you can add a second one. Although it costs some money, but this might be worthwhile.
Optimize your saller presence
SEO of your eBay profile can boost your seller presence in a few different ways. Customers will have a positive experience thanks to your exceptional customer service and an optimized profile or storefront.
But what do customer satisfaction and trust have to do with eBay SEO?
Actually, everything.
The ultimate objective of the eBay search service is to deliver results that are the most likely to result in a simple purchase and a satisfied customer.
Because of this, eBay considers your decisions and reputation as a seller when deciding how high to place your listings.
This includes qualities like responsiveness, dependability, and all the other components that can make dealing with you pleasant for a customer.
To put it briefly, you must show a high-quality, trustworthy brand and amaze your clients with excellent service.
Your bio on the eBay store
You have the chance to highlight a variety of things in your seller profile that will help you win people over.
Your bio is where you can do this if you're using a personal account. You need 250 characters to introduce yourself and establish a connection with someone who might buy from you.
Use a profile picture that reflects your identity clearly.

Share your tale while connecting it to the eBay listings you sell.
Fill Out Item Details and eBay's Unique Identifiers
Use eBay's dropdowns and checkboxes to add product information in addition to creating a description. This aids eBay in determining what you are selling.
Utilize as many different product identifiers as you can. eBay claims that unique product identifiers make it easier for the algorithm to quickly match product listings to inquiries. They also aid in boosting the visibility of your products.
Certain product identifiers are currently required by eBay for a certain variety of products. The products must be brand-new or manufacturer-renovated for this requirement to apply, but if you have information on products that fall outside of these limitations, you can surely add it. The identifiers that are needed are:
Manufacturer Part Number (MPN)

Global Trade Item Number (GTIN)

Brand
Fill out the following categories about item details correctly:
Price.
The majority of consumers will prioritize pricing when comparing similar products. Therefore, one of the first factors eBay's algorithms will take into account if it can identify a group of sellers offering the exact same goods is pricing.
In cases where all other factors (such as shipping costs or conditions) are equal, it will frequently be the deciding factor.
Shipping.
The second most frequent factor for eBay customers is shipping.
The mixture of price and shipping is a significant differentiator when comparing competing sellers on eBay more so than on other marketplaces (like Amazon, where FBA has standardized much of the delivery expectation).
As a result, eBay's search algorithms give it a priority.
Product condition.
Over 80% of items sold on eBay these days are brand new. This is just a factor and is no more differentiation on eBay.
However, it's crucial to convey the product's state as precisely as possible if you deal in restored or resold goods
Open an eBay Store Account
All eBay sellers require accounts, although not all of them demand store accounts. On the website, there are a ton of individual sellers who sell a few minor goods or clear their homes of extra things.
However, open a shop account if you plan to use this as your primary source of income.
If you previously utilized eBay, you might recall having an "About Me" page where you could provide a wealth of information to customers.
eBay excluded that in 2014. These days, there isn't a lot of information you can tell clients about your store.
If you sell a lot, a store page would be worthwhile, nevertheless. Subscribers of the eBay Store receive:
Free listings and reduced sales fees

A boost in traffic

Tools for listing optimization

simple "out of office" feature

Free access to Terapeak

Promotions Administrative access

Discounts for business services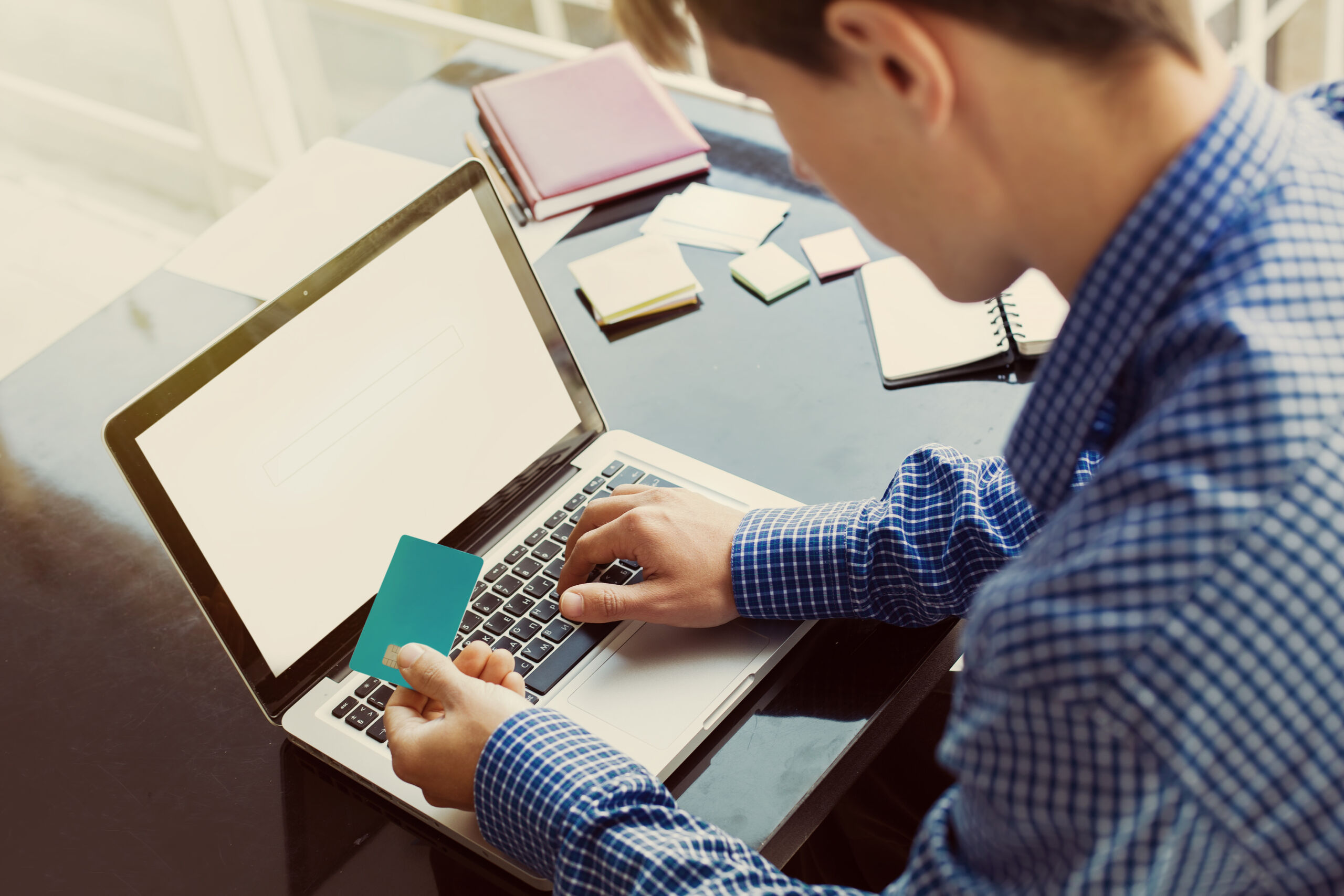 Customer service reviews
The key to successful eBay SEO is to deliver a fantastic shopping service and get positive reviews.
According to our analysis of the best practices for eBay, a good seller rating and the following actions can improve eBay's SEO and increase the visibility of your listings.
Buyer inquiries should be answered immediately.

Give buyers positive feedback.

Ask customers for favorable reviews. (Create thorough seller ratings and address any complaints made against you.)

Limit your handling to no more than one day.

Implement eBay Guaranteed Delivery.

Positive comments from customers to our seller will boost their future listings' SEO.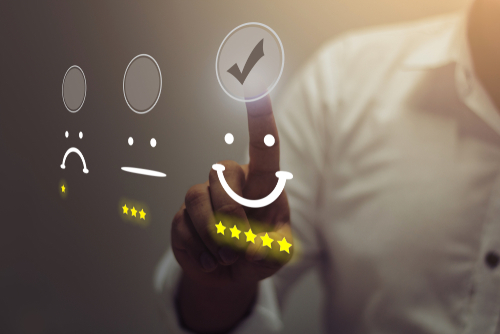 Use the eBay shipping program
Fast and free shipping programs have been one of the strong criteria for search engines, customers, and for sellers that are on various online markets like eBay and Amazon.
Customers consistently show a strong preference for goods that can be shipped quickly (especially in less than 4 days) and with no delivery charges.
You risk losing potential clients to other vendors or other online marketplaces if you don't offer such a quick and free shipping scheme (i.e Amazon).
Buyers can always utilize the shipping programs filter on eBay to look for sellers who provide free shipping. Sellers must be eligible for the Free Shipping Message programs in order to show up in such search results.
Free delivery with a 4-day turnaround time is being offered;

Provide one-day or same-day handling.

When using monitored delivery, upload your product's tracking information.

Follow your shipping commitments.
Why Should You Boost Your eBay SEO?
You must become an expert at eBay SEO if you intend to make money there. More people will notice your listing if you appear earlier on search engine results pages (SERPs).
When more people see your listing, the more potential consumers you have. This is the power of SEO to generate more potential customers.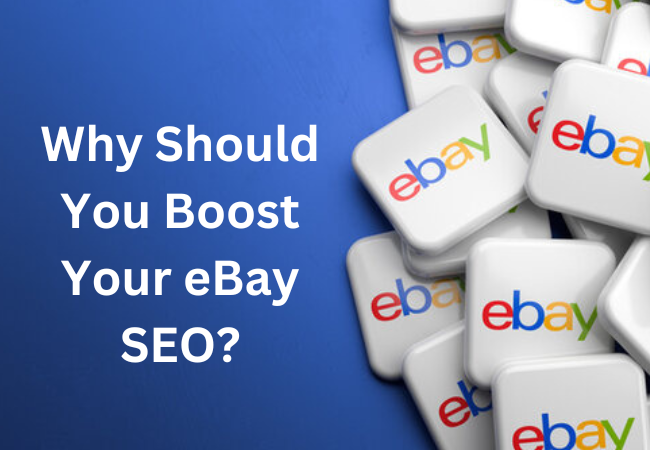 What to Avoid doing eBay SEO?
When performing eBay SEO for selling products, there are a few things you should stay away from.
Avoid Loading your descriptions and titles with keywords. Try not to stuff keywords into everything.
Do not use words like "buy once" "must see" and "O wow" in your eBay titles. It is useless.
Do not Utilize hidden text by giving it a color. (Like white-colored words on white background)
Don't include links that aren't related.
Don't copy listings.
How Does eBay's Search Engine Work?
The search engine that is used by eBay is called Cassini.
This search engine, like Google, considers several variables when determining which item listings should appear on top of search result pages.
Since eBay consumers frequently come to buy instead of browse, Cassini isn't quite like Google.
Cassini and eBay work to streamline the process of searching for things, learning more about them, and choosing whether to bid or buy. Although keyword relevance is very important, Cassini also pays attention to the following:
Value for Money: Costs, which include shipping and handling, must be fair for the goods being sold.
User Convenience: Users must be made aware of what they are viewing, and why they need to buy it. and exactly what will happen once they buy it? They shouldn't need to research anything.
Buyer Satisfaction: Simply said, buyers are considerably more important to eBay and Cassini than vendors. They must notice that you have favorable consumer feedback and interactions.
Although Cassini's ranking algorithms aren't really disclosed by eBay, but basically, there are 4 key Cassini values to consider when optimizing your eBay listing:
Trust

Value

Relevance

Convenience
Why SEO Cares for SEO services for your eBay profile?
SEO Cares is one of the top SEO service-providing agencies.
When finding a team for SEO of your eBay then trust our SEO expert team and rest assured.
We don't miss even small details.
Our affordable plans and packages are fit for every type of business, small or large. Rank your listing and grow your business with us.
We are on a call away.
For You: Etsy SEO: How It Works? (6 Shop & Listing Optimization Tips)