Before we have a look at the smart goals examples for work it is necessary for you to know what is a smart goal.
What is a SMART Goal?
While setting a goal for yourself, you include all the steps that are necessary for you to achieve your goal to become successful.
It is basically a framework that is known as a smart goal framework and these steps are called smart goals.
The word smart in the smart goals is for relevant, specific, time-based, measurable, and attainable terms.
If your goal falls in the criteria of the following five terms then you can say your goal is a smart goal.
Specific: The specific goals are mostly clear and well-defined in the sense that what you have to do.
Moreover, what type of results you will get after achieving the goals?
Measurable: This will help you to know whether you have achieved your goal or not.
Attainable: These goals are realistic and have great importance because of this you will know about the chances and possibility to achieve goals with the available resources.
Relevant: The relevant goals are very important for you because they help you to get your long-term motives or goals.
You have to note that if you will achieve this goal how it will affect your overall goals?
Time Base: In this type of goal there is always a time frame to achieve the goal like in how much time you will achieve your goal.
And you have to make it possible to achieve it at a particular time.
And what are the criteria for completing the goal?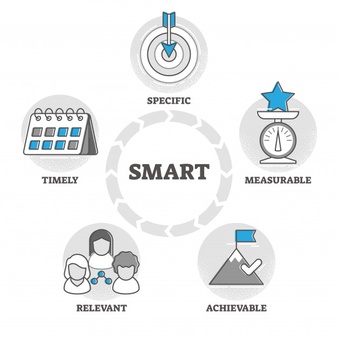 SMART Goals Examples For the Work of a Successful Business
You can achieve or accomplish your big and long-term goal by dividing your goal into small goals because small goals will be easy to achieve and will help to achieve a big one.
Here are some smart goals examples for work for an organization to follow.
You can increase the revenue by decreasing the overtime as if the overtime of your department is 150 hours every month.
you can set a goal to decrease it to 50 to 60 hours per month at the end of the financial year.
For customer awareness, you can arrange  6 webinars to educate your customers at the end of the quarter.
Make it possible for more than 70% satisfied customer ratio.
Make a checklist for the launch of a product.
Note the task, activities, and date of the product launch in the checklist.
After making a checklist, send this list to all the stakeholders for approval.
Make a goal to hire a manager for your department at the end of the quarter by taking online and face-to-face interviews.

Getting new clients at the end of the quarter for your business by holding 4 to 5 customer meetings each week.

Make it possible to get customers over 40,000 at the end of the financial year with a profit margin of more than 5$.

Increasing the social media appearance of your business by getting the likes in between 30,000 to 1 lac through Facebook ad campaigns.

Make it possible to train your whole team completely at the end of the quarter on the new inventory management software.

Saving the amount of ten thousand dollars from the sponsorship commitment for your company events at the end of the fall season.

Make a strategy for upselling by reviewing the customer's accounts having a revenue of more than 20k dollars revenue per year.

Increasing the customer satisfaction rate to almost 80% and decreasing the customer contact rate to 15 %.
Tips for Setting SMART Goals
There are some tips for people who are using smart goals for the first time.
Everyone Should Be Aware Of Smart Goal
If you and your team are not aware and don't have an understanding of the smart goals completely then it can cause some type of disaster for your business.
You have to do everything like arranging meetings, providing training, and sending emails to make it possible that every employee of your company understands the smart goals.
Making Smart Goals Public
It will be a great strategy for your business to show your smart goals to the public.
When you will public your smart goals, the people will be able to see the qualities of your leadership, and your employees will also know how they can adjust themselves according to the smart goals.
Developing a System To Monitor
To implement smart goals successfully you need to develop a system that will monitor the smart goals on the regular basis.
You have to make a plan for a smart goal in which you have to specify at what time the smart goal will be reviewed, improvised, and when the smart goal will be finally achieved.  
Learning the True Meaning of Success
Are you expecting your business organization for setting smart goals or you expect your organization to set long-term goals?
By understanding the true meaning and importance of success the owners and leaders of an organization can encourage other people to achieve goals.
Taking Feedback from Employees
Each of the organizations has different traditions and cultures according to their work and needs.
That's why the ways of setting smart goals could be different for different organizations and companies. So, due to this you can gather all the employees of your organization and take their opinion about smart goal setting.
For example, If you have an SEO services company then you should ask your SEO experts to provide feedback on SMART goal setting.
Like the smart goals for work, there are some measurable goals for employees.
Bottom Lines
In the following article, we have discussed smart goals examples for work.
Because it has great importance for any organization or business to achieve long-term goals in life.